This page displays my solutions to all 24 levels of Jabara, the third level pack of Paperama.
Paperama is a 'zen' puzzle game app available on android, iPhone, iPad and iPod.
The idea of Paperama is to simulate making origami on your device, which it does - surprisingly well, too! You have to fold paper sheets to make origami figures, working as accurately as possible to create the desired shape. Also - don't use more than the allocated number of folds in each level!
Solutions to Paperama - Tani level pack
Solutions to Paperama - Yama level pack
Solutions to Paperama - Shizume level pack
Level 1: Frog
Level 2: Knife
Level 3: Fox
Level 4: Swan
Level 5: Goldfish
Level 6: Mushroom
Level 7: Snail
Level 8: Sickle
Level 9: Tobacco Pipe
Level 10: Hummingbird
Level 11: Heron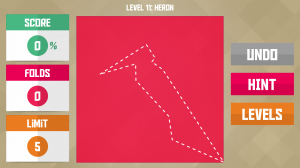 style="display:inline-block;width:336px;height:280px"
data-ad-client="ca-pub-7125626766070078"
data-ad-slot="1002361976">

Level 12: Rooster
Level 13: Concorde
Level 14: Giraffe
Level 15: Sledge
Level 16: Rabbit
Level 17: Shirt
Level 18: Bison
Level 19: Ram
Level 20: Strawberry
Level 21: Bus
Level 22: Arrow
Level 23: Butterfly
Level 24: Dolphin
Solutions to Paperama - Tani level pack
Solutions to Paperama - Yama level pack
Solutions to Paperama - Shizume level pack